Like most personal trainers, I've lost track of how many times I've heard this worn out excuse: I don't have enough time to do my exercise program. What's really scary is that most of my clients are retired. If you can't fit in an hour a day to exercise when you're not even employed, there's something seriously out-o-kilter with your priorities!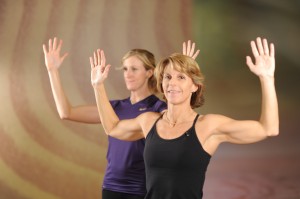 Susan Dawson-Cook doing shoulder girdle stretches in Personal Best Stretch
If you're about to conjure up an excuse or two today, below are a few tips that might help you put your schedule and priorities in perspective:
1 – Look at exercise as part of your health care program. If you exercise more, you will likely spend less time at the doctor's office and the hospital.
2 – If you schedule your exercise time, just like you do for a trip to the doctor or for your bridge or quilting hour, then it is less likely to be left by the wayside.
3 – Find someone in the community that you look up to as a "fitness role model." This person can inspire you to be your best. Your role model might be someone who shows up at the gym every morning at 7 a.m. sharp, a neighbor who competes in triathlons or someone who practices yoga every morning at the clubhouse.
4 – Fit in stretching during small increments throughout the day. When my neck and chest gets tight from sitting in front of the computer, I stand up and do neck rolls and then lay over the foam roller to open up my chest for a few minutes. I also often stretch to relax my body right before going to bed. Paying attention to what your body needs and delivering it is no different from giving your car a tune-up. Your body will feel and function much better if you are mindful. I also highly recommend regular chiropractic and massage to help keep you feeling like a fine-tuned machine (instead of a robot with rusty parts).
5 – If the long bout of exercise feels daunting, make slots for 3, 15 minute bouts of exercise. I personally don't like this because it takes me 10 minutes to warm up enough to enjoy the rest of the workout, but I do know that this works well for many people. I also followed this method when I was travelling 75 percent of the time several years ago. I would do 10 minutes on the bike in the morning, walk around the parking lot for 10 or 15 minutes at lunch and even pace around in airports!
6 – If you are overcomitted with board responsibilities, social events, and other hobbies, let something go to make time for your exercise. I often combine the social and the exercise by training in groups or hiking with my family.
7 – Make it fun! I lost weight and got in my best shape ever when I started taking group exercise classes. Since I found them fun, I wanted to go every day and exercise became a joy instead of a chore. Everyone likes some kind of exercise. Keep trying different modes until you find what you like and you can't help but succeed.
About the Author :
Susan Dawson-Cook M.S. is an Author, Free Lance Writer , AAFA certified Personal Trainer and Group Instructor. Visit her blog Fit Women Rock  to learn more on exercising ,health & wellness tips.